Our Cottages
From your hosts Betty and Eric:
A warm welcome to our boutique Cottages!
Our eight-year journey began with a dream to convert the property next door with its two old-worn-down-empty houses into the four lovely Cottages you see today. After purchasing the property and getting preliminary approval from the city for the new buildings, we were on our way. These Cottages represent Solvang's heritage and the fulfillment of our dream. We are so proud of our Cottages and the thought, hard work and design that went into each of them. We want guests to feel welcome and relaxed in our special little corner of the Solvang world. Velkommen!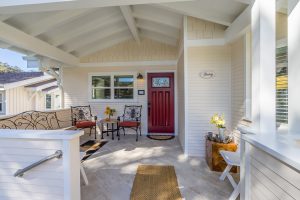 Betty: My 1920's house on the corner of Alisal and Oak, with its white picket fence in Solvang's downtown area has always attracted many compliments and questions from locals and tourists alike. It was my inspiration for the architecture of our Cottages, and to showcase that 1920's Craftsman style evident in early Solvang homes. Growing up in Iowa, I always loved sitting on the front porch talking with family members and visiting with folks as they passed by and so I incorporated wonderful front porches into each of the Cottages. The furnishings represent the findings from one of my favorite hobbies, antique collecting. I also included features I myself find important in a hotel: fully-equipped kitchens giving guests the option of at-home cooking* and eating; TVs in the bedroom AND in the living room; WiFi; and modern, gorgeous bathrooms and vanity areas.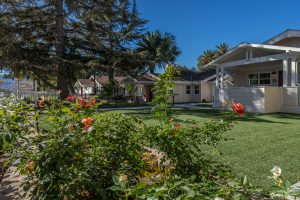 Eric: Both of my parents are Danish and I grew up and lived the better part of my life in Solvang. My grandfather built the now-historic Wulff Windmill on Fredensborg Canyon. As Betty's partner, and also as an established contractor, I paid attention to every detail in constructing Betty's dream and bringing it to fruition. No matter what Betty asked, I found a way to make it happen and to make Betty happy! I am very proud of the finished products.
We want to acknowledge and thank:
Our architect: David Goldstein who faithfully and beautifully followed the Craftsman style as well as paying special attention to the porches.
Our builders: Wolfgang Hess, and Adelfe (Jose) Solis who worked tirelessly and expertly to achieve the results you see today.
Treasured Estates: Local Estate Sales where we purchased many of our antique furnishings.
*While staying at our Cottages, you can take advantage of the many eateries and bakeries in the area or stop at Nielson's Market to stock up on prepared foods or ingredients for your own cooking in our fully-equipped Cottage kitchens.